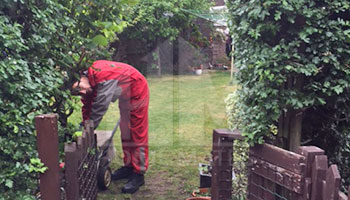 If you want to keep your garden in a good-looking and blossoming condition, we can offer you our brilliant gardening services. They can ensure you the improvements your plants and garden area need most. You can order lawn mowing, hedge trimming, tree shaping, removing wastes from your garden, creating flower beds, sowing new plants and more. Our qualified gardeners will inspect your plants ans soil and do the necessary corrections in them. We can offer you creating of a more traditional and modern garden design by customer's choice. Use our excellent gardening services, provided in Golders Green, NW11 any time you need them.
Nick
has been working for our company for 3 years as a Professional Gardener. With 10 years experience in the field he managed to cover more than 3500 addresses.
Vesko
works for our company for 1 year already. As he is specialised in shaping the bushes, lawn mowing and grass cutting, he helps to numerous Customers to maintain their gardens on daily bases.
Gardening Services Golders Green from HomeMates
Are you searching for the best professional gardening services in Golders Green, NW11? Our agency is one of the leading providers of such procedures and we have an extensive list of gardening services. From pest control to flower planting, our procedures will be of great help to anyone who wants to have a healthy and good-looking garden. Our employees can consult you on what kind of trees you can plant in your garden, as well as how to arrange your flowers. To call the professionals from our company, make sure that you dial our number and speak with our representatives at the office.
If you have any enquiry or if you would like to get a quote, just give us a call on 020 3745 4377 or send us e-mail on info@homemates.co.uk!
We provide more services in Golders Green
Gardening chores are not easy to be executed and it requires consistent efforts to keep a lawn or garden well maintained, clutter-free, and attractive. So, our Golders Green, NW11 based company deals in gardening and lawn maintenance services to provide professional gardening services to citizens across the London city. We would be delighted to serve you and we would try to free up your precious time to be spent with your family and friends or to be spent on fun and relaxation activities. We wish you spend fun-filled time in your lawn or garden rather than exhausting yourself doing the difficult and tiring gardening chores.
Gardening Services Prices
Professional Gardening Golders Green, NW11
Maintain the garden is not that fun as having the garden. Moreover there are some specific skills you need to have in order to maw the lawn properly, to prune the trees without damaging them, to keep the blossoming flowers, to trim the hedges beautifully and to clean the leaves.
This all may seem easy like a piece of cake, but here we come with the professional gardeners from our gardening services company in Golders Green, NW11, London – experienced, trained and with friendly attitude.
We are available for you every day of the week and we have special package offers, call for further details and quotations.