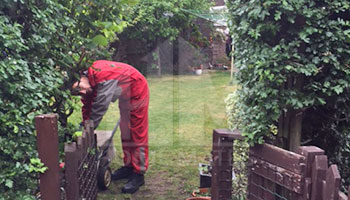 HomeMates provides various gardening services in Mortlake, SW14. Our gardeners can offer you lawn mowing, hedge trimming, tree pruning and other gardening services.
You can maintain your garden in a excellent condition if you rely on our professional gardening services. They will provide the necessary removing and killing of weeds, hedge trimming, turf laying, general garden cleaning and a lot more. Every garden is in a different condition and needs different cares.
Nick
has been working for our company for 3 years as a Professional Gardener. With 10 years experience in the field he managed to cover more than 3500 addresses.
Vesko
works for our company for 1 year already. As he is specialised in shaping the bushes, lawn mowing and grass cutting, he helps to numerous Customers to maintain their gardens on daily bases.
Gardening Services Mortlake from HomeMates
If you use our comprehensive gardening services, they will provide you:
Lawn Mowing and Aerating
Hedge Trimming
Turf Laying
Tree and Shrub Pruning
Weed Killing and Removing
Planting Seeds of different kind
Soil Fertilizing
Garden Cleaning
Driveway Pressure Washing
According to the needs of your garden, our gardeners will make sure every plant is growing and being looked after properly. They will make your garden well maintained and cleaned. Our gardening services are provided in Mortlake, SW14 and will ensure the nice appearance of your home right from its outer entrance.
If you have any enquiry or if you would like to get a quote, just give us a call on 020 3745 4377 or send us e-mail on info@homemates.co.uk!
Gardening Services Prices
Here is a list of all the services we provide in Mortlake
If you need any of the gardening services, listed above or some additional ones, give us a call and order them. Our qualified gardeners can add turf in your garden, which will make the crops in it more abundant and protect them from the bad influence of some harmful ingredients in the soil. They can trim the hedges, plant the seeds, chosen by the customer, fertilize the soil.
The lawn will be mowed and aerated. And finally our gardening specialists will remove the debris and wastes from your garden, sweep fallen and cut branches and pressure wash the driveways. Use our comprehensive gardening services to keep your outdoor house area attractive and alive. They are available in Mortlake, SW14, London every day in the week.
Professional Gardening in Mortlake, SW14
Our gardeners are supplied with top quality tools for cleaning and maintaining gardens in a great condition. With their help your hedge will be trimmed, the trees and shrubs will be pruned and shaped, new seeds will be planted, the soil in your garden will be revitalized. In the final stage of the gardening process all the wastes from our work will be cleaned, swept and removed from your garden.
Our gardeners will use pressure washing machines to clean your driveways professionally. If you need high-quality gardening services, provided at affordable prices, get in touch with our representatives and order them for a date and time, preferable to you. Our services are at each customer's disposal in Mortlake, SW14 every day from Monday to Sunday.