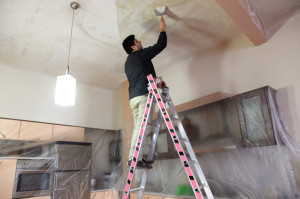 Professional home refurbishment services in Mortlake, SW14 provided by HomeMates. Give your house the look it deserves with our home refurbishment service.
If you want to upgrade your home, you're going to need help from us. Our home refurbishment service is one of the best in Mortlake, London and we've been occupied with it for many years. We can transform your property, improving the quality of life.
Our staff is at your disposal every day. Book a service and we'll help you design, budget and execute the entire process of home refurbishment at a reasonable price. Be sure to get in touch with one of our telephone representatives to get more information.
Give us a call now on 020 3745 4377 or send us an e-mail at info@homemates.co.uk with your enquiry or to arrange a viewing.
Refurbishment Services Prices
The prices depend ond the size of the property and the requirements you have. Call us now and arrange a free viewing!
Home Refurbishment in Mortlake from HomeMates
What we do:
Painting and decorating
Fitting of floors, bathrooms and kitchens
Converting lofts
Other upgrades
Here is a list of all the services we provide in Mortlake
So, you have made up your mind to upgrade your home but do you know what you need to do? If you leave it to our experts, you won't have to worry about anything. We take all the steps from designing the project to completing every aspect of it in time. We are fully insured, trained and experienced, which means that you'll receive a high-quality professional home refurbishment service.
Professional Home Refurbishment Mortlake, SW14
We offer several options to help you upgrade your home in Mortlake. One of them is painting and decorating. It allows you to freshen your walls and ceilings by re-applying new layers of paint. Our painters will not only paint your walls, but they'll also offer you a wide selection of products and design patters so you can choose the one you like best. To make it easy for you, we have a catalogue where every single product is displayed. Once we discuss the design of your walls, we'll provide all the materials and begin the decorating process.
Apart from painting your house, you can also upgrade your interior by installing a new kitchen or bathroom. Our fitters are experts at fitting various units such as cupboards, ovens, worktops, dishwashers, mirrors, basins and sinks, counters, drawers and shelves, toilet, showers, tubs, etc. Our kitchen and bathroom fitting services are very reliable, trustworthy and reasonably-priced. Our purpose is to create functional and good-looking rooms that will serve a useful purpose.
We would like to invite you to have a close look at our company and consider hiring our workers. We will take care of your home as if it was our own. We promise you'll be fascinated by the results. Give us a chance.