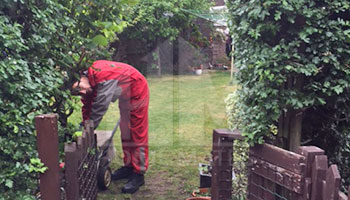 Are you longing for fresh gardening services in Peckham, SE15, London? Do you need innovative gardening? Or you just want some proper maintenance?
Whatever your gardening needs are, our gardening company is here to provide the activities that will turn your garden into paradise and to maintain it greatly.
We also offer you seven days availability and affordable prices. Please contact us for further details and information.
If you have any enquiry or if you would like to get a quote, just give us a call on 020 3745 4377 or send us e-mail on info@homemates.co.uk!
Nick
has been working for our company for 3 years as a Professional Gardener. With 10 years experience in the field he managed to cover more than 3500 addresses.
Vesko
works for our company for 1 year already. As he is specialised in shaping the bushes, lawn mowing and grass cutting, he helps to numerous Customers to maintain their gardens on daily bases.
Our gardeners will take care of your garden by the services the agency offers:
Gardening maintenance
Gardening cleaning
Tree pruning
Hedge trimming
Lawn mowing.
Gardening Services Peckham from HomeMates
Our firm which is situated in a commercially active and prosperous area Peckham, SE15 within the London city, has been offering interesting lawn maintenance & garden maintenance services to the people who have been dwelling within the UK capital region. We have been providing top-notch gardening and lawn maintenance packages for very affordable service charges and our exceptional services are unparalleled and unsurpassed. We are giving a comprehensive range of services including hedging, cutting, lawn mowing etc. The ride on mowing service has been made available for all types of properties and even slashing is available for larger residential and commercial properties.
Gardening Services Prices
We provide more services in Peckham
When you need gardening services of any kind in Peckham, SE15, London, do not hesitate to call us. Our gardening services agency is what you are searching for – a professional team of well trained gardeners that will take proper care of your garden; availability of your best convenience, fair prices.
Everything you need, we can provide it – we clean, we maintain the garden, we mow and we prune. Just share your needs and we will be there taking good care of everything, every day of the week, at affordable prices.
We work with business customers too.
Call us for further information, details and booking.
Professional Gardening Peckham, SE15
We are owners of a Peckham, SE15 based firm that delivers gardening services through its efficient, loyal, and experienced gardeners around the entire London region within the United Kingdom. We are helping all types of clients including working professionals, pensioners, landlords, estate agents, tenants, groundsmen, parents, etc. We have handled a multitude of projects of a wide variety. We have provided gardening services for a number of properties such as small residences, large residences, rental properties, residential estates, schools, colleges, care homes, sports clubs etc. Our customers are reputed citizens of the London city and they are completely satisfied with our full-fledged gardening packages.