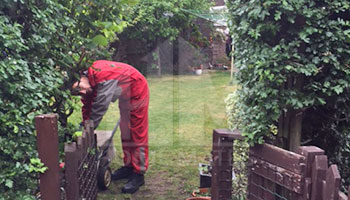 HomeMates provides various gardening services in Turnham Green, W4. Our gardeners can offer you lawn mowing, hedge trimming, tree pruning and other gardening services.
If you want to make your yard look lovely, our gardening experts are always at your needs. Our professional company provides highest quality gardening services in London. We have years of experience so we guarantee your satisfaction.
Nick
has been working for our company for 3 years as a Professional Gardener. With 10 years experience in the field he managed to cover more than 3500 addresses.
Vesko
works for our company for 1 year already. As he is specialised in shaping the bushes, lawn mowing and grass cutting, he helps to numerous Customers to maintain their gardens on daily bases.
Gardening Services Turnham Green from HomeMates
We are available, affordable and flexible:
Professional Hedge Trimming
Tree pruning
Garden Edging
Turf Laying
Our professionals are available in Turnham Green, W4 work seven days a week, providing all our customers with a wide range of services specially designed to fit their individual needs. We offer top quality, as well as affordable prices. Choose the most appropriate service for you and book appointment today!
If you have any enquiry or if you would like to get a quote, just give us a call on 020 3745 4377 or send us e-mail on info@homemates.co.uk!
Gardening Services Prices
Here is a list of all the services we provide in Turnham Green
Did you know that different kinds of grass need different height? Did you know that also in different seasons the height of the grass shall be different? Do you know when and why to use fertilizers? If you don't do not worry, our professional gardeners are pretty aware all these things and a lot more useful stuff so you do not need to worry about a thing, just call and book our gardening services in Turnham Green, W4.
You need mowing and grass cutting services? You want tree pruning and you are wondering whom to turn to? Do not hesitate any more, our gardening services company in Turnham Green, W4, London is what you need to solve all your gardening issues at once.
Professional Gardening in Turnham Green, W4
From the maintenance up to the artistic special care, we are the solution for you to have a wonderful garden. We are not available only for your home, but for the office and pubic areas. For more information please do not hesitate to call us.
You want a personal garden, a wonderful place to enjoy and a green area to make you feel proud. In this case you need some professional touch in Turnham Green, W4, London and you can choose our gardening services. We offer everything you need – from the lawn mowing to tree pruning and full maintenance, we can do it all.
Check out all happy customers we have. We are so popular because we love gardening and this is a real bless for us. Please call for further details.