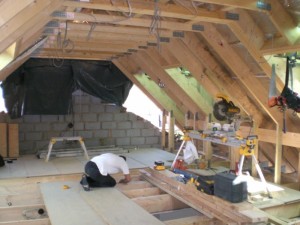 Professional loft conversion services in Turnham Green, W4 provided by HomeMates. Increase the living area of your house with our loft conversion service. Call now!
If you want to invest in your home and turn the unusable attic space into another living room, bedroom, bathroom or room of your choice, use our loft conversion services. They are the best way to optimally and effectively use the space you have in your house.
Your attic can be turned into the additional rooms you need most in your home. You won't have to move to another place, if you invest in your house and let us do the loft conversion you need in it. Our services are provided in Turnham Green, W4 seven days a week.
Contact HomeMates at 020 3745 4377 or at info@homemates.co.uk.
Building Services Prices
The prices can vary greatly depending on the size of the property and materials used. We strongly recommend to fill in the form or call us for a free quote.
Loft Conversion in Turnham Green from HomeMates
Our loft conversion services can offer you:
Improvement of your home by adding the needed additional rooms you need in it
The most suitable and appropriate loft conversion type, according to the structure of your property and your needs
Creating such projects for loft conversion, which will most certainly receive Planning Permission
Professionally planned and implemented loft conversions
Dormer, eaves, hip to gable, mansard and shell loft conversion types, available
Here is a list of all the services we provide in Turnham Green
If you use our services to transform your rarely used attic rooms into the kitchen, bathroom, living room, bedroom or whatever room you want, your home will have the extra living space you need. Instead of gathering dirt and getting piled with unnecessary items, your attic rooms can serve you as the extra living or relaxation space you need in your home in Turnham Green. Use our excellent loft conversion services, which are reasonably priced and done in accordance with your needs.
You can find HomeMates also in West Ealing, West Kensington and the rest of the London as well.
Loft Conversion Services in Turnham Green, W4
Depending on the loft space you have available, our planning specialists will offer you the most appropriate type of loft conversion. It will be in line with the height of your loft, the structure and deign of your roof and some other factors. Use our excellent loft conversion services to receive the transformation you need in your house.
Our planning specialists will create your project and illustrate it with computer graphics and drawings. If you approve them and after the needed Planning Permission is received, our builders will start working on it. Our loft conversion team is qualified, skilled and trustworthy. Use our reliable loft conversion services, provided in Turnham Green, W4, letting our professional designers, architects and builders create the rooms you dream of.