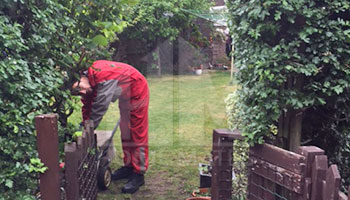 HomeMates provides various gardening services in Whetstone, N20. Our gardeners can offer you lawn mowing, hedge trimming, tree pruning and other gardening services.
Have you decided to renovate your garden? With so many gardening options today, you can create an amazing gardening project that everyone will be jealous of. The best way to do this is to use our professional gardening services.
Nick
has been working for our company for 3 years as a Professional Gardener. With 10 years experience in the field he managed to cover more than 3500 addresses.
Vesko
works for our company for 1 year already. As he is specialised in shaping the bushes, lawn mowing and grass cutting, he helps to numerous Customers to maintain their gardens on daily bases.
Gardening Services Whetstone from HomeMates
We are based in Whetstone, N20 and we are here to help you maintain your garden. You can count on us seven days a week. More about our company:
First-class gardening services
Landscaping and design
Professional attitude
Available from Monday to Sunday
We are a company that has run its horticulture business for many years in Whetstone, N20. We offer Londoners a bunch of opportunities when it comes to their outdoor spaces.
Whether you need spring tree pruning, April-to-September lawn mowing, all year round maintenance and first-class landscaping ideas, our expert gardeners will surely provide it for you. We offer the highest standards of workmanship and the least expensive services.
If you have any enquiry or if you would like to get a quote, just give us a call on 020 3745 4377 or send us e-mail on info@homemates.co.uk!
Gardening Services Prices
Here is a list of all the services we provide in Whetstone
We have landscape designers that help shape your garden the way you want it. They are experienced and very knowledgeable. Your garden in Whetstone is in good hands if these people take charge of it. In addition, we have a bunch of gardeners who specialise in pruning trees, trimming hedges and mowing lawns. They are experts in their field, work with so much enthusiasm and hold various certificates in this trade. We provide outstanding results at all times.
Professional Gardening in Whetstone, N20
The best part about our service is that it is 100% secure and customisable. We know that different people have different expectations. We are prepared to fulfil every request and meet every need because that's what we do – we provide individual services that are complied with people's requirements. We want to make you proud of your garden and thrilled to get back home every day. We promise that even your neighbours will enjoy the results; they might even ask you who took care of your garden.
We are convinced you will get to like our gardening services and you should try them right away. If you're wondering how to book a service, dial this number and tell our assistants what you want. An appointment will be made for a day of the week that is most convenient. We are available around the clock in Whetstone, N20, so don't hesitate to get in touch with us when you have this sudden urge to transform your space outside into a divine garden. We'll be waiting for you.