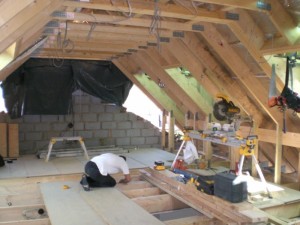 Professional loft conversion services in Harrow, HA1 provided by HomeMates. Increase the living area of your house with our loft conversion service. Call now!
Did you know that you can reshape your loft space into a comfortable and functional extension of your home? There are numerous households which have an attic that only collects dust.
Most people don't really put their lofts in proper use. Almost every loft can be transformed into the room you really need. After a professional loft conversion service you can have an extra bedroom, private office, gym or a game room.
Contact HomeMates at 020 3745 4377 or at info@homemates.co.uk.
Building Services Prices
The prices can vary greatly depending on the size of the property and materials used. We strongly recommend to fill in the form or call us for a free quote.
Loft Conversion in Harrow from HomeMates
Our experts are real professionals who are able to perform different loft improvement procedures such as:
electricity and lighting installation
plumbing systems
general loft conversion
window building
dormer improvements
It is up to you to decide what you will make of it. We are a company which operates in London and we offer you expert loft conversion in Harrow, HA1. Make a service appointment with us and we will makeover your attic space.
Here is a list of all the services we provide in Harrow
Our company is one of the leading providers of loft conversion services in London. We have proved the quality of our work. With highly motivated professionals who have been trained to use the latest utilisation materials, smart construction tools and weight support systems, we can turn every attic into a fully accommodated room.
Our services in Harrow are gaining popularity with every single day, because the cost and space efficient living space optimisation has no match. The ever growing number of clients is a fine proof that we provide expert assistance at a reasonable price.
Loft Conversion Services in Harrow, HA1
All of our conversion practices are performed with modern materials and smart systems which fasten the utilisation process. We work in respect of the building control regulations and there is nothing to worry about – your loft won't be at risk and you won't have any problems with the construction authorities.
Our workers are available even during the weekend. We can start the preparation and space measurements as soon as you have an appointment with us. Our company offers customer friendly prices which help more people to take full advantage of their property space.
If you are looking for expert loft conversion in Harrow, HA1, our company is the contractor you need. We offer living space optimisation that comes at reasonable price. If you like to use our services, you will need to register an appointment. Reservations could be made at our office in London or by phone. Give us a call, if you have an old loft that needs expert conversion.