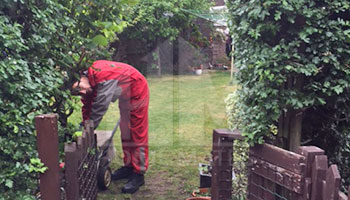 There are sever certain cares for your garden in Harrow, HA1, London.
One is always to "listen" to the specific needs of your garden and to provide the proper care.
Always use proper tools for the activity you are doing.
Be a professional – lawn mowing only seems easy; the same is with the tree pruning and even the hedges need special care to look beautiful and like a piece of art not a misconception of a failure artist.
Nick
has been working for our company for 3 years as a Professional Gardener. With 10 years experience in the field he managed to cover more than 3500 addresses.
Vesko
works for our company for 1 year already. As he is specialised in shaping the bushes, lawn mowing and grass cutting, he helps to numerous Customers to maintain their gardens on daily bases.
Gardening Services Harrow from HomeMates
We operate a gardening services agency that serves across the London city; our agency is perfectly placed in the Harrow, HA1 area. Our services are delivered to numerous citizens of the London city. Although we provide outstanding lawn and garden maintenance services and ensure the best standards of customer satisfaction, however, our firm is also known for a number of business and job opportunities that it creates. We have successfully managed a network of franchise owners across the London city. Take a step forward with confidence and get associated with us and we would certainly make your life richer in more than one way.
Anyway – if you do not feel confident enough to manage with your individual garden or you need some massive help as a business client, please do not hesitate to use our professional gardeners – available nay time of the week, always providing quality work and excellent prices, we will make your garden look great!
If you have any enquiry or if you would like to get a quote, just give us a call on 020 3745 4377 or send us e-mail on info@homemates.co.uk!
Gardening Services Prices
We provide more services in Harrow
Are you a person who is searching for loyal, proficient gardeners to take care of your gardens? Just give us a ring to gather information about our services. We are committed professionals and if you contact our Harrow, HA1 head office or any other branch to hire our veteran gardeners, then they will certainly give you a whole gamut of lawn care and garden maintenance services around your schedule.
We are here to help you whenever you need an exceptional gardening service; our expert gardeners can make your small or large garden one of the most beautiful gardens in the entire London city.
Professional Gardening Harrow, HA1
In case you search for reliable and customized gardening services in Harrow, HA1, do not hesitate to turn to our dedicated company that offers excellent care for your lovely garden. For the purpose we collaborate with trained and organized gardeners who will come supplied with excellent and chemically free equipment. You can expect punctuality in every detail and complete commitment from our gardeners. Specially for our customers we have set affordable rates for all the procedures that we include in our gardening services. Should you need any further details, use our customer support centres where our friendly staff will respond to all of your questions.