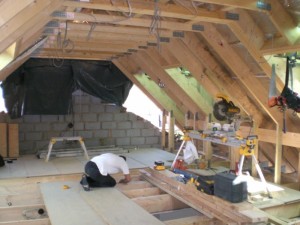 Professional loft conversion services in Thamesmead, SE2 provided by HomeMates. Increase the living area of your house with our loft conversion service. Call now!
Are you looking for a professional contractor to handle your loft conversion. This kind of job requires our help. Trust us, we are professionals based in Thamesmead SE2, who deal with loft conversion.
We have been in business for quite a long time and we can assure you if you're looking for experts, you've found them. We can make your attic much more useful.
Contact HomeMates at 020 3745 4377 or at info@homemates.co.uk.
Building Services Prices
The prices can vary greatly depending on the size of the property and materials used. We strongly recommend to fill in the form or call us for a free quote.
Loft Conversion in Thamesmead from HomeMates
As long as you use our company for your loft conversion, you can be sure your home is in safe hands. Our service is definitely worth your attention and we encourage you to read more about us or speak to our telephone assistants about the options you have.
More about our company:
Based in Thamesmead SE2
Extended working hours
Builders available on Saturdays and Sundays as well
Assessing your attic, obtaining permission and drawing plans – all done by us
Very friendly and polite staff
Here is a list of all the services we provide in Thamesmead
We guarantee that you will be fascinated by the end result. After all, we have lots of experience in this field and we are ready to cover all aspects of the process. Don't hesitate to get in touch with us.
You will see how easy it is to work with us. Every member of our teams of builders knows their place and function. They can cooperate with each other and make sure that the whole process goes smoothly. We have different types of experts in our company. There are architects that are responsible for planning and designing of the loft structure so that it meets the criteria and current building regulations.
Loft Conversion Services in Thamesmead SE2
We also have builders who make the necessary changes to the structure of the loft, according to the plans provided by the architects. All our professionals are equipped with cutting-edge equipment that make their work more accurate and easier. Not to mention, they have lots of experience that makes them the perfect choice for your loft conversion.
There are several reasons why you should trust us. First off, our goal is to meet your expectations, which is why our service is customisable. Second, we are very responsible, organised and hard-working. We strive to provide the best results. You can totally trust us. Many past clients speak highly of us. Last but not least, we have acceptable prices and our services reach beyond Thamesmead SE2. For further details, don't hesitate to contact us. We will be glad to help you.