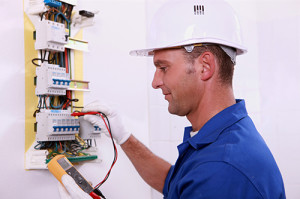 HomeMates provides wide variety of local electrical services in London for your home and office. Our qualified electricians will solve any electrical problem.
The electricians who are part of the big team of HomeMates specialise in the performing of a long list of electrical services which the residents of London use on a daily basis. The fact that we have the most qualified and well-trained specialists in the area is why many people decide to entrust their homes in our hands.
Our agency gives you the chance to have the best professional electricians working for you. They work in our agency and are respected by the majority of the residents of London. You can book a variety of electrical services which you need at the most affordable prices in London and the area.
Call us on 020 3745 4377 or send us an e-mail at info@homemates.co.uk to get a free quotation.
Electrical Services Prices
Electrical Services London From HomeMates
They will be performed by our friendly electricians who can cope with all sorts of problems like:
Installation of various components;
Fixing of different problems;
Installations of wiring;
Changing of light bulbs;
Maintenance of electrical systems and others
Usually, the problems in the electrical system or in some of the more specific devices which you use every day, appear without even noticing. It is a good thing that our professional electricians are just a phone call away in such moments. In case of emergency they will arrive promptly in your property and will take care of the situation.
Professional Electricians London
When some sort of problem appears with a specific component from the wiring in your home, our electricians will be ready to help. It is not a problem to get in touch with them because they can be reached either with a visit to our headquarters or over the phone. If you need someone who can install your new appliances with any problems, you can depend on our excellent electricians. If there is some kind of damage with an important component or you need professionals who can install light switches for you, again, you can turn to the experts from our agency.
To have a safer home and no problems with the electrical system in your real estate property, get in touch with the professional electricians of our agency. They will give you a consultation after they do a thorough inspection of the problem in your home. They have their own professional tools which they will bring with them to carry out the service. You won't have to worry about the providing or some parts or instruments because our electricians will take care of every detail.