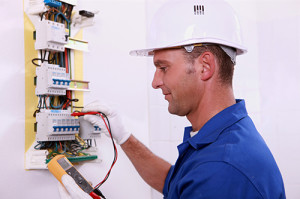 HomeMates provides wide variety of local electrical services in Hammersmith, W6 for your home and office. Our qualified electricians will solve any electrical problem.
Our professional agency has the best electricians in Hammersmith, W6 and also in the city. Every time a customer needs their help they respond immediately. Our company offers different types of electrical services and all of them are with guaranteed first-class quality.
They are performed by our sympathetic electricians on who you can depend every time you want something to be fixed in your home.
Call us on 020 3745 4377 or send us an e-mail at info@homemates.co.uk to get a free quotation.
Electrical Services Prices
Electrical Services Hammersmith From HomeMates
Our electricians will:
Listen to your explanation of the problem;
Think of the best way to handle the situation;
Offer to buy any important components, if something is broken;
Work as long as necessary to fix the problem;
Inspect the final results, so that they are sure that everything is in order
Here is a list of all the services we provide in Hammersmith
All electricians who work in our leading company are qualified to execute a number of professional procedures in the homes of our clients. They have the necessary experience which gives them the opportunity to perform electrical services of different kind. You can call them, in case you need a professional repair of some of the components in your home like the light fixture, the switches or something else. For serious problems with the wiring, you can also depend on our top employees. You can meet with them for consultation in our office in Hammersmith, W6 or directly ask them to come to your home for an inspection of the damage.
Professional Electricians Hammersmith, W6
Our specialists are highly-qualified and know a lot about the specifics of the electrical system. It is important to give to our specialists a call, the moment you realise that something is not working properly or that some parts need repair. Our employees can be reached any time because our company has well-organised customer support centres which work 24/7. The moment you contact our electricians, they will begin to prepare for the visit of your real estate property.
You won't have to look for tools or purchase ones because our specialists have their own professional instruments with which they perform every procedure. Your safety will be guaranteed thanks to the assistance of our employees who won't leave your home until the problem in your electrical system is fixed. Our hard-working experts in Hammersmith will check several times before they begin with the repair, in order to be sure that everything is all right. You can trust our professional electricians because they will be there for you every time you need them. Call them in case of an emergency.