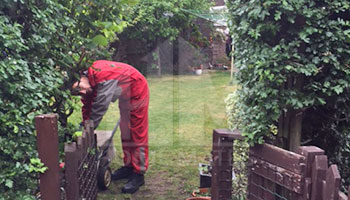 HomeMates provides various gardening services in Gunnersbury, W4. Our gardeners can offer you lawn mowing, hedge trimming, tree pruning and other gardening services.
We are a professional company situated in Gunnersbury, W4. Our wide range of gardening services is extremely affordable. We have been providing all our customers in
London with the highest quality solutions for many years. Our experienced gardeners are available seven days a week.
Nick
has been working for our company for 3 years as a Professional Gardener. With 10 years experience in the field he managed to cover more than 3500 addresses.
Vesko
works for our company for 1 year already. As he is specialised in shaping the bushes, lawn mowing and grass cutting, he helps to numerous Customers to maintain their gardens on daily bases.
Gardening Services Gunnersbury from HomeMates
Professional Lawn Mowing
Grass Trimming
Garden Tilling
Garden Clean Up
They are fully dedicated to their work, and skilled enough to exceed your requirements. Our highest quality, time-saving gardening services are the best option for you. If you want to build your own garden paradise, don't hesitate to call!
We offer a wide range of activities that will make your life easier and will draw the attention to your garden:
If you have any enquiry or if you would like to get a quote, just give us a call on 020 3745 4377 or send us e-mail on info@homemates.co.uk!
Gardening Services Prices
Here is a list of all the services we provide in Gunnersbury
You want nice shapes for your hedges or something more artistic – we are able to make your dreams come true. You are not sure what shall be the height of your lawn, do not worry, we know what is the perfect height for different grass so we can do it properly. Call to book our services today. In Gunnersbury, W4, London where you have a wonderful garden, our company offers special gardening services for you.
Our experienced company offers highest quality gardening services. We specialize in all garden maintenance and guarantee you the best results! Covering Gunnersbury, W4 and a number of all London areas, our hard-working gardening experts are available both during the week and on weekends.
Professional Gardening in Gunnersbury, W4
We provide our team of professionals with the required equipment, so you don't have to worry about supplying any materials and products. Our top quality services are at very competitive prices. For any further information, feel free to contact us!
Gardening services in Gunnersbury, W4, London is what you need when you are not sure if you are able to take proper care for your garden
With our wide range of gardening activities our professional gardeners can take care of the lawn, the trees, hedges and all flowers with the proper tools, right fertilizers, a lot of love and attention and all this performed in time of your best convenience and in affordable prices.
Please call in order to receive further information or to book. Take care of your outdoor space and enjoy your beautiful garden. Forget about the boring chores like mowing and trimming, let us do it for you!
We are an experienced company in Bayswater, W2, well-known among our customers in London for our high level professionalism. Our primary goal is to provide top quality gardening services at lowest price possible. We have properly trained our gardening experts, so we guarantee your satisfaction. They have the required skills to meet all your expectations. If you need any assistance, don't hesitate to call!