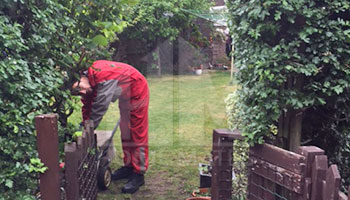 HomeMates provides various gardening services in Mayfair, W1. Our gardeners can offer you lawn mowing, hedge trimming, tree pruning and other gardening services.
Our professional company provides a wide range of gardening services available in all areas of London. Based in Mayfair, W1, we have become one of the leading providers in the region.
Nick
has been working for our company for 3 years as a Professional Gardener. With 10 years experience in the field he managed to cover more than 3500 addresses.
Vesko
works for our company for 1 year already. As he is specialised in shaping the bushes, lawn mowing and grass cutting, he helps to numerous Customers to maintain their gardens on daily bases.
Gardening Services Mayfair from HomeMates
We offer:
Lawn mowing;
Tree pruning;
Flower decoration;
Hedge trimming;
Artistic hedge trimming;
Fertilizing;
Maintenance;
Our time-saving gardening solutions are the most reliable way to maintain a beautiful garden. We offer the lowest prices but highest quality services. Our gardening experts have the required experience and skills to transform your outdoor place. For any further information feel free to contact us!
If you have any enquiry or if you would like to get a quote, just give us a call on 020 3745 4377 or send us e-mail on info@homemates.co.uk!
Gardening Services Prices
Here is a list of all the services we provide in Mayfair
In the same time we have affordable prices and we are available every day of the week for your best convenience.
Please call for further information.
In Mayfair, W1, London our company offers gardening services for every garden and every taste. From lawn mowing to tree pruning, we are the answer to your garden troubles or for perfect maintenance, we can be really helpful.
Professional Gardening in Mayfair, W1
We are a well-known provider of gardening services on the territory of London. Covering
Mayfair, W1, we have the required skills and experience to maintain your green area. Our professional experts work seven days a week using the best equipment to perform their job. We provide highest quality services at the lowest price possible.
Call us now and find our more about our special offers
In Mayfair, W1, London we are offering great gardening services. It is a lot better to use professional gardening services and a lot more efficient then you think.
In our company we are using professional tools and fertilizers when needed and this is how your lawn will be green and well trimmed, your flowers will blossom just the way you have always dreamed of and your trees will be in perfect shape.
You can count on our professional gardeners every day of the week.
For the full list of all our services and prices, please call our operators.