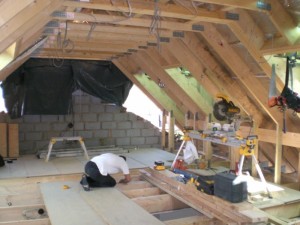 Professional loft conversion services in Mayfair, W1 provided by HomeMates. Increase the living area of your house with our loft conversion service. Call now!
If you don't want to move to another place, but need additional living space, we can offer you our reliable loft conversion services. They can turn your attic rooms into another bedroom, bathroom or whatever rooms you need most.
Your home will have the accommodation to lodge your guests and its value will be increased. If you rely on our professional architects, planners, designers and workers to do the loft conversion you need, they can offer you the most appropriate design and its professional implementation to fulfil your needs.
Use our loft conversion services, if you live in Mayfair, W1, provided seven days in the week.
Contact HomeMates on 020 3745 4377 or at info@homemates.co.uk.
Building Services Prices
The prices can vary greatly depending on the size of the property and materials used. We strongly recommend to fill in the form or call us for a free quote.
Loft Conversion in Mayfair by HomeMates
Our loft conversion services include:
Hip-to-gable loft conversion
Mansard or double mansard loft conversion
Velux loft conversion
Dormer loft conversion
Different other combinations of loft conversion types
Here is a list of all the services we provide in Mayfair
If you use our reliable loft conversion services in Mayfair, your home will be improved with the additional rooms you need in it. After meeting with you and understanding your requirements, we will create drawings and some computer graphics, illustrating your loft conversion project. If you approve it, we will check if Planning Permission, Building Control or Party Wall Agreement is needed. If so we will make sure the project complies with the requirements and receives the approval of the Local Authorities.
Loft Conversion Services in Mayfair, W1
The process of loft conversion starts with discussing your needs and ideas and coming to an agreement on what type of loft conversion is appropriate for your home in Mayfair, W1. Our designers will create the necessary drawings and computer graphics. If you approve them, we will check if it is necessary to apply for approval of your project from your Local Authorities. Then an architect will create the best design, which is suitable for your home. After all details, concerning the planning, design and receiving the necessary approvals are specified, our builders will start implementing your loft conversion.
Find Our Loft Conversion Services Also Here:
Loft Conversion Paddington
Loft Conversion Soho
Loft Conversion London
Our team of designers, architects, electricians, plumbers and builders will transform your loft into the bathroom, living room, bedroom, kitchen or into whatever room you want. They will consult you about what type of loft conversion is appropriate for your estate. You can supervise the whole process and will be informed how is the work progressing. Use our reliable and reasonably priced loft conversion services any time you need them. They are provided in Mayfair, W1 from Monday to Sunday. Use our contact numbers and website to send your request and receive your free quotation, responding to your needs.