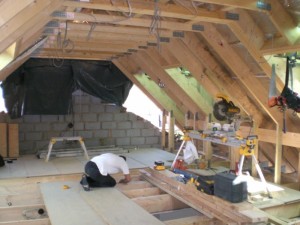 Professional loft conversion services in Rotherhithe, SE16 provided by HomeMates. Increase the living area of your house with our loft conversion service. Call now!
You can call us, if you need professional loft conversion procedures that are not too expensive. We will discuss in details everything you like, until you are sure that we are the right company for you. That's why our company's loft conversion services are so popular in the entire city.
You are free to take advantage of them and transform your loft fast and for the most affordable price. Give us a chance to prove our excellent skills by dialling our agency's phone number.
Contact HomeMates at 020 3745 4377 or at info@homemates.co.uk.
Building Services Prices
The prices can vary greatly depending on the size of the property and materials used. We strongly recommend to fill in the form or call us for a free quote.
Loft Conversion in Rotherhithe from HomeMates
As a certified professional company, we can promise you:
That your loft conversion project will become our main priority;
That our employees will dedicate all of their time to the performance of the procedure;
That we will take care of the providing of the equipment and of everything else necessary;
That you will book loft conversion services at the best prices
Here is a list of all the services we provide in Rotherhithe
We have excellent building specialists who will do everything they can to provide you with the nice room that you need. Our exquisite loft conversion services will certainly improve your home faster than any others in Rotherhithe SE16 or another area of the city of London. We understand well that you need more space in your home and we intend to do everything possible to give it to you.
Loft Conversion Services in Rotherhithe SE16
Pick up your phone now and contact the centres of our professional company in Rotherhithe SE16. This is one way to contact our agents and also the fastest one. Another way to do it is to come directly in the headquarters of our company which is situated in one of the popular districts of the city of London. We will gladly tell you all that you want to know about us and our agency, so feel free to ask us anything. The loft conversion service of our company will expand your home promptly.
Don't hesitate to dial the phone number of our leading professional company from London. We will carefully plan the entire process of the transformation of your attic and will take care of all the details. Give us the opportunity to demonstrate to you the excellence of our low-cost loft conversion services by calling our headquarters right now.