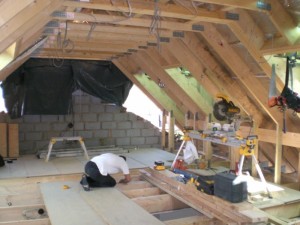 Professional loft conversion services in Tottenham, N15 provided by HomeMates. Increase the living area of your house with our loft conversion service. Call now!
Do you know how you can create more space without providing too pricey home upgrades? Loft conversion is the most cost-effective option and our company is a pro in it. For a long time it has been our specialty.
We serve Tottenham, N15 7 days a week, offering customers not only high-quality solutions, but also the chance to get their loft converted to their taste. Our service is very well organised and carried out by professionals.
We can help extend your accommodation any time you ask. You let us know what you need and we'll be there to obtain the expected results. Get in touch with us.
Contact HomeMates at 020 3745 4377 or at info@homemates.co.uk.
Building Services Prices
The prices can vary greatly depending on the size of the property and materials used. We strongly recommend to fill in the form or call us for a free quote.
Loft Conversion in Tottenham from HomeMates
Our goal is to obtain the best results possible when it comes to your loft conversion and that includes attending to your needs and fulfilling your requests, as long as they are achievable. Therefore, we will offer the best solutions based on your preferences and requirements.
Reasons to call us:
Reasonably-priced
Located in Tottenham, N15
Professionally-screened
Available 7 days a week
Results- and detail-oriented
Here is a list of all the services we provide in Tottenham
If you want to extend your property without giving up on your outdoor area, this is the service you need. A loft conversion can free lots of space at home without the need for house extension. Sometimes, part of the roof may require extension, but it will not affect your outdoor area in any way. We will make sure all the work is done according to all safety and building standards.
Loft Conversion Services in Tottenham, N15
Our teams of architects, builders and consultants are very dedicated and highly-trained. With the right techniques and proper knowledge, they will convert your loft within a few weeks.
What else do you need to know? We work from Monday to Sunday and work with our own supplies and materials. We have always covered Tottenham, N15 and several adjacent areas.
If you are ever in need of a loft conversion service that is both quality and cost-effective, we bet our company will meet your expectations. You can arrange a no-obligation estimate with our company by phone anytime you wish. You only need to give us a call. Our staff members will take care of the rest. They are trained to address people's enquiries as soon as possible; so all your requests will be attended to almost immediately. You give us a try and you will be glad you did.