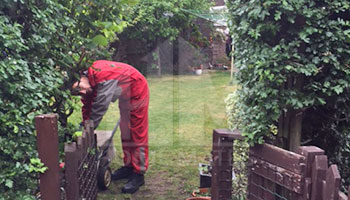 HomeMates provides various gardening services in Tottenham, N15. Our gardeners can offer you lawn mowing, hedge trimming, tree pruning and other gardening services.
You shouldn't leave you garden without special cares, even during the cold months. Our professional agency offers top-of-the-line gardening services for every part of the city of London, especially for Tottenham, N15.
Nick
has been working for our company for 3 years as a Professional Gardener. With 10 years experience in the field he managed to cover more than 3500 addresses.
Vesko
works for our company for 1 year already. As he is specialised in shaping the bushes, lawn mowing and grass cutting, he helps to numerous Customers to maintain their gardens on daily bases.
Gardening Services Tottenham from HomeMates
We will offer you many gardening services which you can try like:
Professional trimming of hedges;
Effective removing of weed and different plants;
Prompt planting of all kinds of flowers you like;
Excellent lawn mowing;
Pest control and many others
The residents can benefit from the many excellent procedures our employees perform. When you have troubles with constant rodent infestations or when you need regular maintenance of your lawn, you can turn to us.
Our gardening services are affordable and on top of that they are available for booking through the entire year. Call our office and ask our employees for more details regarding our excellent and very professional procedures.
If you have any enquiry or if you would like to get a quote, just give us a call on 020 3745 4377 or send us e-mail on info@homemates.co.uk!
Gardening Services Prices
Here is a list of all the services we provide in Tottenham
The gardening is an excellent way to relax after the long hard day. Unfortunately, when you have a million other things to do at home that is not always possible. Your garden, however, still needs to receive special cares and for that you can depend any time on the amazing specialists of our agency. They all know a lot about gardening and they will be able to help you with any specific problems or ordinary maintenance.
Professional Gardening in Tottenham, N15
Our professional agency is the best place for you, where you can discover everything you might need to maintain your garden in top condition. We regularly update the specialised equipment which consists of various machines, products and tools that our employees need in their work. This is the only way we can be absolutely sure that our clients will get the results they expect fast and with perfect quality. More about our equipment and gardening specialists you can learn in Tottenham, N15.
Tottenham, N15 is where the official headquarters of our company has been based for years. This is also the only place you can receive competent advice about the maintaining and preservation of your garden and different plants. We will give you a consultation regarding your specific problems with the gardening and we will also tell you which of our affordable and effective gardening procedure will be best for you and your place. Call our customer support centres or visit the office of our number one agency. This way you will get the opportunity to try the top gardening services in the city of London.