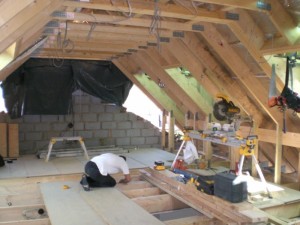 Professional loft conversion services in Walworth, SE17 provided by HomeMates. Increase the living area of your house with our loft conversion service. Call now!
If you need more rooms in your house or commercial property, you can have your loft made suitable for living, using our affordable loft conversion services. They will be done in line with the requirements of each customer and the local authorities.
You can fit a guest bedroom, TV lounge, playroom, study, gym or studio, if you rely on the professionals working in our company. They will make the necessary installations, building, plastering, decorating work and changes in your loft.
Contact HomeMates at 020 3745 4377 or at info@homemates.co.uk.
Building Services Prices
The prices can vary greatly depending on the size of the property and materials used. We strongly recommend to fill in the form or call us for a free quote.
Loft Conversion in Walworth from HomeMates
You can have your neglected loft suited for living so that it can be used by your family, guests or lodgers. Our loft services in Walworth SE17 can guarantee you:
Planning and implementing your project according to your preferences
Our work is done according to the local authorities' requirements
Minimal disruption during the conversion process
Experienced and qualified builders, carpenters, roofers, plumbers, decorators and architects will do the conversion
All the work from planning your project, receiving the necessary permissions to its implementation is included in our services
Plastering, floor installation, plumbing and electrical installations
Painting and decorating the new rooms
Installation of staircases connecting your new loft rooms with your house
Our work will be done through a scaffolding
Here is a list of all the services we provide in Walworth
Use our customer support centre to order the loft conversion you need for your property and it will be planned and done in the preferred time. We provide first-class loft conversion services in Walworth SE17.
Our planning assistants will discuss your ideas and estimate the options for conversion which your loft can give us. An architect will make the necessary measurements and create drawings of your project. If planning permission is required the necessary documents will be sent to the local authorities.
Loft Conversion Services in Walworth SE17
After all detail are arranged, the conversion process will be started. We can offer you dormer, hip-to-gable, mansard and Velux conversion. Use our services which are provided at reasonable prices seven days a week in Walworth SE17.
You can make your home and property for rent a lot more valuable up to 20% using our professional loft conversion services. They will be done whenever each customer prefers and may take from 6 to 12 weeks. We provide our services in and near Walworth SE17 and they can be booked by phone, e-mail and through our online form. Get your free quote and our representatives will visit your loft to estimate how it can be converted in the most cost-effective way.