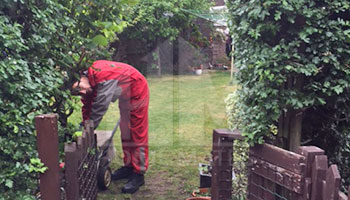 We would like to provide useful information to all individuals who are seeking gardening services in London. Our gardening services agency that exists in the Walworth, SE17 zone of the prosperous UK capital city, offers all-around gardening services to a multitude of residential and commercial clients across the city. Our gardening services have been listed on our website and it is easy to take a look and know about our great, cost-effective gardening services packages. We take pride in giving high quality yet cheap, affordable gardening services that are suitable for all types of simple or complex gardening jobs and also suit all budgets.
Nick
has been working for our company for 3 years as a Professional Gardener. With 10 years experience in the field he managed to cover more than 3500 addresses.
Vesko
works for our company for 1 year already. As he is specialised in shaping the bushes, lawn mowing and grass cutting, he helps to numerous Customers to maintain their gardens on daily bases.
Gardening Services Walworth from HomeMates
Gardening chores are not easy to be executed and it requires consistent efforts to keep a lawn or garden well maintained, clutter-free, and attractive. So, our Walworth, SE17 based company deals in gardening and lawn maintenance services to provide professional gardening services to citizens across the London city. We would be delighted to serve you and we would try to free up your precious time to be spent with your family and friends or to be spent on fun and relaxation activities. We wish you spend fun-filled time in your lawn or garden rather than exhausting yourself doing the difficult and tiring gardening chores.
If you have any enquiry or if you would like to get a quote, just give us a call on 020 3745 4377 or send us e-mail on info@homemates.co.uk!
We provide more services in Walworth
The gardening has always been a favourite topic for our employees. Their knowledge allows them to help people from Walworth, SE17, as well as residents of other areas in London, maintain their big and small gardens in excellent condition. They will speak with you in advance, in order to understand better your ideas. Only after everything is clear they will move on to the actual work which won't take much time for sure. Let our professional gardeners make your real estate property better. You will have less things to worry about, in case you decide to depend on our specialists.
Gardening Services Prices
Professional Gardening Walworth, SE17
We are the number one company in commercial garden and lawn maintenance services industry; we have placed our head office in the Walworth, SE17 area of London and we serve across the London city within the United Kingdom. If you require garden or lawn maintenance services, please call our customer care executives to obtain a free, no-obligation quotation. We know you want a well-maintained garden, so, If you avail a comprehensive, professional garden maintenance package from us, this is guaranteed that you would enjoy a multitude of gains. Our experienced, smart, dutiful gardeners will definitely please you with their stellar performance.