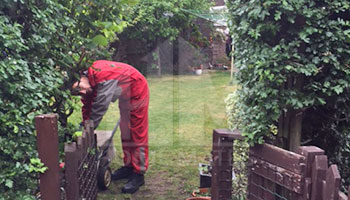 HomeMates provides various gardening services in Highbury, N5. Our gardeners can offer you lawn mowing, hedge trimming, tree pruning and other gardening services.
Wishing to have a nice-looking garden? You have come to the right place. Here we offer professional, inexpensive and effective gardening services. We are a company of many years and with vast experience whose services are delivered in Highbury, N5.
Nick
has been working for our company for 3 years as a Professional Gardener. With 10 years experience in the field he managed to cover more than 3500 addresses.
Vesko
works for our company for 1 year already. As he is specialised in shaping the bushes, lawn mowing and grass cutting, he helps to numerous Customers to maintain their gardens on daily bases.
Gardening Services Highbury from HomeMates
We offer top quality gardening services that are popular in Highbury, N5 London. We are prepared to give you the garden you always imagined to have.
Further information about us:
We have all licences and certificates required
Our gardeners are insured and background-checked
We work very responsibly
Our services are cost-effective
What we do is take care of customers' gardens and make their lives much easier. We provide a great deal of options and we suggest you have a close look at our services. If there is something we can help you with, don't forget to let us know by phone. We will be very happy to give you a hand with this.
If you have any enquiry or if you would like to get a quote, just give us a call on 020 3745 4377 or send us e-mail on info@homemates.co.uk!
Gardening Services Prices
Here is a list of all the services we provide in Highbury
Having a beautiful garden is easy but time-consuming. If you can't afford to spend so much time on maintaining the space available outdoors, you can count on our gardeners. Our company offers a wide range of gardening services for every taste and need. We offer to help you with small tasks and greater garden upgrades any day during the week. Among the horticultural options are tree pruning, hedge trimming, garden design, removal of weeds, dead branches and leaves, lawn mowing, planting and others. You can require a full list of the services we provide from our co-workers available by phone around the clock.
Professional Gardening in Highbury, N5
The methods we use are innovative and effective. We have the required skills to tackle your garden. Our professionals have gone through extensive training that allows them to be better at what they do. Apart from this, they have significant experience in horticulture – they have served Highbury, N5 for a decade now. They are very competent and self-confident. Most of all, they are creative and willing to attend to your needs.
We are located in Highbury, N5, currently servicing that and a few other areas around. You can get in touch with us anytime you wish because our hard-working telephones consultants are available nonstop. Want to know more about us? Then speaking with us is a must. You can get the garden you have always wanted to have. We like to keep our gardeners busy. Give us a call to arrange a service and we will send a team right away.