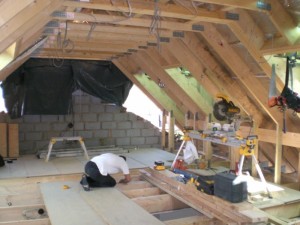 Professional loft conversion services in Hoxton, N1 provided by HomeMates. Increase the living area of your house with our loft conversion service. Call now!
If you need some additional room in your home and plan to transform your loft, our loft conversion service is the best option for you. We will make the necessary improvements, installations and apply for permission.
After understanding your requirements, our team of specialists in loft conversion will make sure you receive the improvements you want in your new room. We have been providing high-quality loft conversion services in Hoxton N1 for many years and can offer you the best services. Choose our company to have your loft converted into the rooms you need and the results will surpass your expectations.
Contact HomeMates at 020 3745 4377 or at info@homemates.co.uk.
Building Services Prices
The prices can vary greatly depending on the size of the property and materials used. We strongly recommend to fill in the form or call us for a free quote.
Loft Conversion in Hoxton from HomeMates
If you use our reliable loft conversion services you will have the additional living, working and relaxation space you need in your home. They can offer you:
Planning the conversion
Applying for and receiving permission
Providing many loft conversion designs the customer can choose from
Using top-quality building materials
Plumbing and electrical installations
Decorating of your loft
Installation of dormer windows
Fitting an additional bathroom
Affordable prices
Seven days a week available services
Call centres, working 24/7, ready to assist you
Here is a list of all the services we provide in Hoxton
You can have your loft transformed into the additional room you need most in your home, using our affordable and reliable loft conversion services. They will be done according to your requirements and will ensure you the additional facilities you want. We can offer you installation of additional bathroom, dormer windows, designing and decorating your room.
Every stage of the loft conversion process will be done in line with the customer's demands. Our specialists can consult you on the way you can use your loft space optimally. Our company is located in Hoxton N1 and works every day in the week. Get in touch with our representatives to arrange your loft conversion.
Loft Conversion Services in Hoxton N1
You can use our loft conversion services to increase the living space in your home. They will make the installation of your electrical systems, ensure the plumbing, decorating and improvements you want in your new room. Use our call centre to schedule your loft conversion and get the information you need, concerning our services.
We offer them in and around Hoxton N1 every weekday and weekend, including at bank holidays. We can guarantee you professionally implemented loft conversion, which will make your home more cosy and valuable. Call us to order your loft conversion any time.