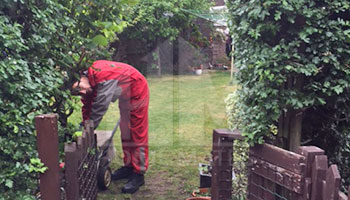 HomeMates provides various gardening services in Hoxton N1. Our gardeners can offer you lawn mowing, hedge trimming, tree pruning and other gardening services.
We are a professional company from London which wants to make you an offer for the best gardening services. Our procedures are different but they all are capable of providing any type of garden with the cares it needs to grow strong and healthy. Our agency is now located in Hoxton N1 but our gardening services can be easily performed in any other part of the city.
Nick
has been working for our company for 3 years as a Professional Gardener. With 10 years experience in the field he managed to cover more than 3500 addresses.
Vesko
works for our company for 1 year already. As he is specialised in shaping the bushes, lawn mowing and grass cutting, he helps to numerous Customers to maintain their gardens on daily bases.
Gardening Services Hoxton from HomeMates
We, on the other hand, promise you that:
You will be treated very nicely by our representatives;
You won't have to wait a long time for the performance of the gardening service you want;
You will be provided with excellent procedures without having to overpay for them;
You will have a great looking garden as soon as you call our specialists
As long as our customers call our operators in advance and give us the information we need, we will be able to make their gardens better. If you want to become our next customer, all you need to do is get in touch with us and pick one of our affordable gardening procedures for your home.
If you have any enquiry or if you would like to get a quote, just give us a call on 020 3745 4377 or send us e-mail on info@homemates.co.uk!
Gardening Services Prices
Here is a list of all the services we provide in Hoxton
Sometimes only a professional can help you with the improving and good maintaining of your garden in Hoxton. We are an agency which has a lot of excellent specialists who can turn your garden into a nicer place. Our employees will take care of the weeding, of the planting of any flowers and other plants you like, of the mowing of your lawn and many other things. To reserve any of our gardening services with our teams, you have to make a call to our office.
Professional Gardening in Hoxton, N1
Our company has the friendliest and most reliable gardening specialists in Hoxton N1 and they will provide you with the most effective procedures which will transform your garden and make it better. You will also save some money because the services that we provide are more affordable than any others offered in London. You can have a well-maintained garden without breaking the bank, if you contact us now.
As soon as you do that, our gardening experts will be on their way to you real estate property. Don't worry in case you are not a resident of Hoxton N1 because our specialists can still reach you no matter where you are. We have our own transportation, so that our gardeners and their equipment can arrive always on time for the execution of the procedure.