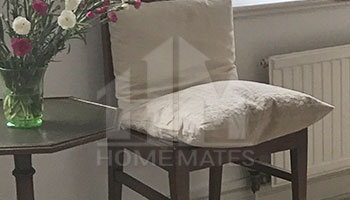 Finding suitable home cleaning services in Hoxton, N1, London might be a really hard task, especially if you don't know how to choose the right agency. If you lack experience in the field of cleaning and you don't feel like wasting a whole day trying to find the best company, then allow us to save you some trouble – we are agency working with house cleaners who are extremely dedicated and who know how to meet the requirements of even the most pretentious landlords. Trust us – we have never let down a single client of ours and we tend to keep up so.
Nedka
is in her early 50's and she is one of our finest cleaners. The saying 'Age ain't nothing but a number' defines her.
Daisy
is challenging herself in order to become an expert. She is practicing her skills on daily bases and do not accept anything but sparkling home.
Galina
is one of our brightest cleaners. Fond of household pets and children. Galina works quickly and up to a high standard.
Yulia
is a brilliant cleaner, who works quickly and catches on to each and every one of our customers' needs.
Home Cleaning in Hoxton from HomeMates
As a trustworthy company we have always been focused mainly on the satisfaction of our clients. Because we value you we have hired only professional house cleaners, who, moreover, work with extremely modern equipment and eco-friendly cleaning products. We not only clean the house, we make it nicer to live in without polluting the air with different acids and chemicals. You can rely on us for doing everything from cleaning the bathroom to doing the laundry. For your information- we are based in Hoxton, N1 but we take orders from all around London. You can call us immediately and we will put you through with your personal professional cleaner.
E-mail us at info@homemates.co.uk or call us on 020 3745 4377 and our customer care team will gladly explain you even the smallest details about our cleaning services.
Domestic Cleaners in Hoxton
Do you long for a day when you will go home after work and there will be no need to clean, to dust, to water the plants or whatever tedious task you are obliged to do on a daily basis? Our company will help you with this- you do not need more than calling us and ordering our package of house cleaning services. You will find satisfied clients in, or everywhere in Hoxton, N1 London, actually, because our employees do not mind taking the underground and coming to help you. Hesitate no more, our agents are waiting for your call.
HomeMates Cleaners Hoxton, N1
Nowadays there are a lot of cleaning companies, offering different kinds of services and prices, so it can be really confusing, choosing only one. There are plenty of reasons to choose our company. We have a team of fully trained maids, ready to provide the highest standards to you. We have individual approach and prices which are not only affordable, but also based on your own needs. We offer you regular and one-off cleaning, It is again your choice. It doesn't matter if you are in Greater London, or Hoxton, N1, call us and we will give you all the details you need to know. We are available everyday – from Monday to Sunday, including weekends and public holidays.