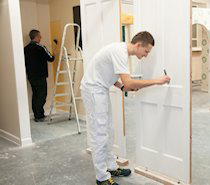 Book painting and decorating service for your home or office in Hanwell, W7 with HomeMates. Our experienced painters and decorators will decorate your property according to your needs.
We are a painting and decorating company, which offers such services within Hanwell, W7. Our painters are true artists, who can turn your home walls into their canvas.
Some fresh paint and beautiful decorations could lead to amazing results. And great results could be reached by booking professional painting and decorating services.
Arrange professional viewing by sending an e-mail at info@homemates.co.uk or by calling us on 020 3745 4377.
Decorating Services Prices
| Painting, Decorating and Wallpapering | Painting, Decorating and Wallpapering | Tiling and Plastering Services | Tiling and Plastering Services |
| --- | --- | --- | --- |
| | | | |
| Free Quote | Free Quote | Free Quote | Free Quote |
Painting and Decorating Hanwell by HomeMates
Why you should consider our services:
We have expert painters with artistic attainments
We have professional painting equipment and tools
We have year of painting and decorating experienced
We offer you a combination of affordable prices and great services
Here is a list of all the services we provide in Hanwell
The use of professional painting and decorating services has many advantages. If you decide to paint your property alone, things could go really bad. Our company's employees carry out the painting and decorating services using our own painting tools, which can really do wonders, if they are used by experienced hands.
You can choose your favourite colours and be absolutely sure perfection is all you get, because we have equipment capable of adjusting the hue and saturation of the paint in order to reach the precise colouring. If you are not fans of bare walls, we can add different decorations and patterns in order to bring some extra "flavour" to your interior. Such services are perfect for children rooms, kitchens, restaurant walls, discos and other leisure venues which can receive a more spicy look without being unsuitable or kitschy.
Painters and Decorators in Hanwell, W7
Professionalism is what we are known for. Owners of large venues in Hanwell could also take advantage of our painters and equipment. We have paint-spraying guns that fasten the painting process and cover large areas. In addition, we respect the environment of your home or office, so we will do everything possible not to cause you any inconvenience. Therefore, we deliver clean and spot-free painting and decorating. If there is any kind of excess paint or spills, we will clean them perfectly as soon as possible in order to prevent the possible staining.
To make a painting and decorating booking you will have to contact the call agents at our office. You can receive their polite support any time and date that suits you. The appointments are made in correspondence with your personal schedule, because our care of our customers always comes first. The prices of our painting and decorating services are the lowest in Hanwell, which is another advantage of our company.