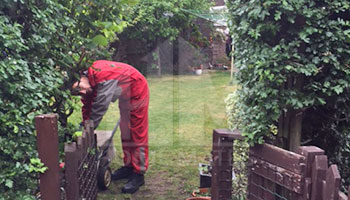 In case you are owner or manager of a large sized garden, this is unlikely that you would be able to manage it yourself. Without seeking professional assistance, you may not be able to well maintain your garden. Even if you manage to get help from all the family members and friends, it is not easy to make your garden look good since the people who are untrained and have no knowledge about gardening can't help you much. We think we can help you since we are the top gardening services company in London, situated inside the commercially active Barnet, EN5 zone.
Nick
has been working for our company for 3 years as a Professional Gardener. With 10 years experience in the field he managed to cover more than 3500 addresses.
Vesko
works for our company for 1 year already. As he is specialised in shaping the bushes, lawn mowing and grass cutting, he helps to numerous Customers to maintain their gardens on daily bases.
Professional Gardening Barnet, EN5
Do you need fresh and innovative gardening services in Barnet, EN5, London? Our company offers a lot of useful gardening services:
General gardening maintenance
Design
Tree pruning
Lawn mowing
Hedge trimming and artistic ideas
Cleaning
If you have any enquiry or if you would like to get a quote, just give us a call on 020 3745 4377 or send us e-mail on info@homemates.co.uk!
Gardening Services Prices
Gardening Services Barnet from HomeMates
We are a company which likes to satisfy all expectations of its clients. If you need professional gardeners who are always around and who are certified and very competent on all matters regarding the maintenance of a garden, we have an office right in Barnet, EN5. The services that our experts have developed through the years can't be compared to any others in town. It is safe to say that we are the agency with the most effective and also inexpensive professional gardening services in London for the moment. For our success and reliability can guarantee all previous and current clients of our thriving company.
We provide more services in Barnet
Do you like to spend your entire weekend or holiday doing the gardening chores? We realise that most of the people don't like to spend all the free time performing the regular gardening chores, and if they have some affordable alternative, they would go for that. So, we have founded a gardening services company to provide reasonably priced, comprehensive lawn and garden maintenance services to the inhabitants of UK capital region. We would be delighted if you trust our company (centrally located in Barnet, EN5 region of the London city) to perform a regular or one-off gardening or lawn maintenance job.
Our gardeners can also offer you package services in accordance with your special needs. Our gardeners will firstly examine your garden and then decide what they can do about your garden.
With the help of professional equipment, tools and chemicals, we are taking special care of your garden seven days a week for your best convenience.