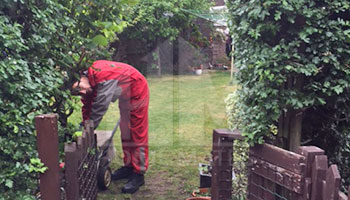 HomeMates provides various gardening services in Kensington, W8. Our gardeners can offer you lawn mowing, hedge trimming, tree pruning and other gardening services.
We use the best products, methods and equipment to perform our job. Our team is comprised of qualified experts who have a keen eye for details. They work both during the week and on weekends so call us anytime you need!
Nick
has been working for our company for 3 years as a Professional Gardener. With 10 years experience in the field he managed to cover more than 3500 addresses.
Vesko
works for our company for 1 year already. As he is specialised in shaping the bushes, lawn mowing and grass cutting, he helps to numerous Customers to maintain their gardens on daily bases.
Gardening Services Kensington from HomeMates
Our services can satisfy your needs, and in the same time they are pretty affordable.
Professional lawn mowing
Fertilising
Hedge cutting
Lawn Aerating
Weeding Services
We have a wide range of great activities, so you can call our operators and check them out. You can also receive some useful information about our conditions and payments.
If you have any enquiry or if you would like to get a quote, just give us a call on 020 3745 4377 or send us e-mail on info@homemates.co.uk!
Gardening Services Prices
Here is a list of all the services we provide in Kensington
Do you need gardening tips? Or may be full maintenance of the garden? Or just some help with the trees, as tree pruning as this is something specific?
Anyhow, whatever your gardening needs in Kensington, W8, London.
Are we are here to help you with high quality gardening services performed by professional gardeners. We are here every day of the week, so we can be as close as possible to your needs.
If you are not satisfied with the look of your outdoor space, we have the perfect solution for you. Available in Kensington, W8, and all across London, our gardening services are not only fast and efficient, but they also are extremely affordable. Our prices are tailored specifically for your individual needs. In order to fit your daily life, we work seven days a week, including on holidays.
Professional Gardening in Kensington, W8
Our qualified gardening experts use only the best products and methods to perform their job. Book your service now and let us take care of your garden!
We know how busy your schedule is so we offer the fastest and most efficient gardening services in London. Transform your garden into a relaxation retreat by hiring our professional gardeners. Our company, based in Kensington, W8, specializes in lawn mowing, hedge trimming and many different gardening services.
In Kensington, W8, London our company offers high quality gardening services – you will find the maintenance services, also special treatments that will make your garden fresher, greener and more desirable place to enjoy in the wonderful sunny days.
You are also welcome to share your special requirements.