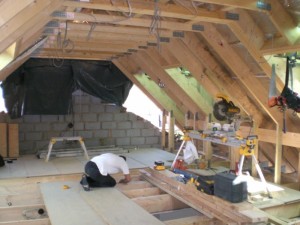 Professional loft conversion services in Kensington, W8 provided by HomeMates. Increase the living area of your house with our loft conversion service. Call now!
Our experts know how to transform every loft into a beautiful and very comfortable space and you can book this procedure for your home any day you like. This is a great way to improve your real estate property and finally have all the space that you need.
Find our office in Kensington, W8 and we will perform for you a quick but excellent loft conversion.
Contact HomeMates at 020 3745 4377 or at info@homemates.co.uk.
Building Services Prices
The prices can vary greatly depending on the size of the property and materials used. We strongly recommend to fill in the form or call us for a free quote.
Loft Conversion in Kensington from HomeMates
In our professional company you will find:
Excellent and affordable loft conversion services;
A great team of very nice licensed specialists;
Professional company with flexible working schedule;
Dependable experts who will turn your property into a better place;
Loft conversion specialists who you can contact even through the holidays and the weekends
We strive to achieve for all of our clients only the best possible results when we provide them with our professional loft conversion services. With our assistance your home can easily receive one extra room which you can use for different purposes.
Here is a list of all the services we provide in Kensington
With many years operating in Kensington and the rest of London, our professional company is the experienced and reputable partner which you need for the successful extension of your home. Our affordable loft conversion services will significantly change the appearance of your real estate property and will create for you and for your family a more comfortable domestic environment. Even though usually such process requires days of hard work, our employees will do everything they can to finish early, so that you can start using the new loft in your home quicker.
Loft Conversion Services in Kensington, W8
The location of your real estate property and its condition won't affect the work of our employees because they are used to working in all kinds of conditions in Kensington, W8. If you want to hire them as well, you don't have to do nothing more except call our operators in the headquarters of our company and tell them that you need reliable loft conversion services.
You can find HomeMates also in Maida Hill, Notting Hill and the rest of the London as well.
You are free to choose a date and a time for the execution of the procedure and you can be sure that our experts will show up then. They will carry with them an equipment of modern instruments and advanced machines and will begin working immediately after you show them the premises. If you have questions or you want to meet with our specialists in advance for consultation, don't hesitate to come to our office and speak with them in person.