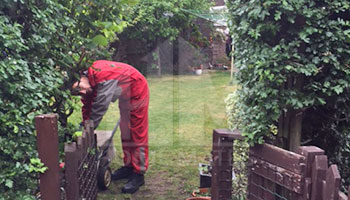 HomeMates provides various gardening services in Notting Hill, W11. Our gardeners can offer you lawn mowing, hedge trimming, tree pruning and other gardening services.
Our exquisite gardening services are extremely fast and highly efficient. We are a leading company, located in Notting Hill, W11, which offers wide range of gardening services in all London areas. Our team is comprised of extreme professionals, dedicated to hard work.
Nick
has been working for our company for 3 years as a Professional Gardener. With 10 years experience in the field he managed to cover more than 3500 addresses.
Vesko
works for our company for 1 year already. As he is specialised in shaping the bushes, lawn mowing and grass cutting, he helps to numerous Customers to maintain their gardens on daily bases.
Gardening Services Notting Hill from HomeMates
Professional Hedge Trimming
Lawn Mowing
Tree pruning
Turf Laying
Greenhouse installation
They are available seven days a week, properly trained and completely prepared to meet your specific needs and requirements. We use the best equipment and products to perform the perfect job.
If you have any enquiry or if you would like to get a quote, just give us a call on 020 3745 4377 or send us e-mail on info@homemates.co.uk!
Gardening Services Prices
Here is a list of all the services we provide in Notting Hill
When you need gardening services in Notting Hill, W11, London you may be looking not for a simple gardener that is cutting hedges and mowing the lawn, but a company with attitude towards the garden and with lots of love for every plant and special care. In our company we have not only the tools, the fertilizers and the skills to take care of your garden, but also the heart to do it properly as it is our own.
So take advantage of the special attitude and you will be surprised that we never charge for the love, only for the gardening services performed in your garden.
If you are overwhelmed by your busy schedule and barely find some free time to maintain your garden, hiring our gardening experts is the best choice you can make. We are a professional company, well-known for our high level professionalism. Covering Notting Hill, W11, and all London areas, we have been providing highest quality gardening services for many years.
Professional Gardening in Notting Hill, W11
Due to our broad experience, we have become one of the leaders in our industry. We work seven days a week, giving you the opportunity to enjoy your free time, while we do our best to take care of your garden.Our highest quality services are at very reasonable prices. Feel free to contact us anytime!
In Notting Hill, W11, London you can count on our gardening services in order to have a wonderful garden and great lawn. We offer not only gardening services, but special attitude towards your garden and the care for every plant is essentially important to us.
In our list of activities are included different types of useful activities such as lawn mowing, hedge trimming and tree pruning and many others that will make your garden more beautiful, better looking and fresher.
We are available everyday of the week, even flexible hours for your better convenience. We charge according to the services performed. Please call for further details.