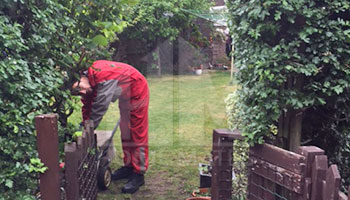 HomeMates provides various gardening services in Soho, W1. Our gardeners can offer you lawn mowing, hedge trimming, tree pruning and other gardening services.
Our team consists only of experts who have been dealing with London gardens for years now. They can offer you quality hedge trimming, lawn mowing or tree pruning as they are all included in our immaculate service.
Nick
has been working for our company for 3 years as a Professional Gardener. With 10 years experience in the field he managed to cover more than 3500 addresses.
Vesko
works for our company for 1 year already. As he is specialised in shaping the bushes, lawn mowing and grass cutting, he helps to numerous Customers to maintain their gardens on daily bases.
Gardening Services Soho from HomeMates
Lawn Mowing
Hedge Trimming
Tree pruning
Lawn Aerating
Garden Edging
Turf Laying
Fertilising
If you need gardening services and you live in Soho or around it, please get in touch with us.
If you have any enquiry or if you would like to get a quote, just give us a call on 020 3745 4377 or send us e-mail on info@homemates.co.uk!
Gardening Services Prices
Here is a list of all the services we provide in Soho
You know your garden is a relevant part of your house and you try and give it the best possible care? If this is so, you can absolutely choose the gardening services of our team and then be extremely pleased with the ideal look of your garden. Our company has long been operating in Soho, W1 and now it can be found in other nearby London districts as well. You will see how gardening is now like a funny game because our specialists do it all with ease and pleasure. They are ready to make the place exquisite, unique and wonderful.
Professional Gardening in Soho, W1
Gardening has never been such a pleasant and easy job but our friendly and motivated team has turned it into that because they love their work and give their best to fulfil it right. If your garden needs professional care, we are the best people in London who can do this for you really successfully. You can book us in the region of Soho, W1 but not just there. We offer gardening services such as lawn mowing, tree pruning and hedge trimming and we do them efficiently by using special equipment. Let us rediscover the true perfection of your garden now.
You don't want the garden in your house to be bushy and neglected so you are looking for reliable professional maintenance? We are here to give you exactly the support you need by providing high-standard gardening services. Our excellent employees will cover the entire garden by mowing the lawn, trimming the hedge and pruning the trees or fulfilling another operation you find necessary. After they are done, the place will be totally different – impeccably looking. Our gardeners are some of the best in London so hire them anywhere around Soho, W1 or any of the close districts whenever you need us.