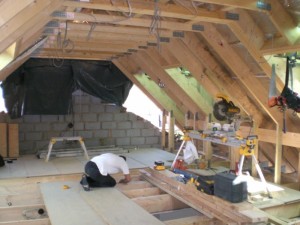 Professional loft conversion services in Enfield, EN1 provided by HomeMates. Increase the living area of your house with our loft conversion service. Call now!
Our highly motivated professionals are equipped with the most modern tools, machines and gadgets. The equipment helps them in the conversion process by making it easier, faster and more effective.
We perform smart loft conversion because we put in use the latest construction, weight support and fitting technologies and materials.
Contact HomeMates at 020 3745 4377 or at info@homemates.co.uk.
Building Services Prices
The prices can vary greatly depending on the size of the property and materials used. We strongly recommend to fill in the form or call us for a free quote.
Loft Conversion in Enfield from HomeMates
Choose our agency as your loft conversion contractor because:
we have smart loft conversion solutions
we offer competitive prices
we provide the skills of experienced workers
we use the most modern tools, machines and gadgets
we promise reliable results
Here is a list of all the services we provide in Enfield
Our client are always surprised when they come to see the results of our work. We have all the skills and equipment to makeover every dusty loft, so it can become a room which has everything needed to accommodate people. We have been providing smart solutions for quite some time, along which our agency has establish its name as one of the best professionals in Enfield, EN1. We have experienced workers who are always ready to execute their tasks with precision and speed. Our agency puts all of its employees under professional training that develops the personal skills and teaches our labour methods and requirements.
Loft Conversion Services in Enfield, EN1
There isn't a household which won't enjoy the comfort of an extra room. Did you know that there is a sleek way to expand the living space that you own without changing your property? If you own a old loft that is not being used properly, you can transform it into a fully functional room that will accommodate your need.
With some help by professionals in the field, your attic could become a comfortable extension of your home. You can have a second bedroom or a home office, the choice is yours. Our loft conversion agency is located in London and we deliver smart loft conversion in Enfield, EN1.
Another great thing about our services is their cost. Our agency offers its qualitative assistance at competitive price. We always promise you reliable results that will satisfy your need of living space extension.
If you are looking for smart loft conversion in Enfield, EN1, we are just the agency you need. In order to use our service you will have to make an appointment. You can visit us in our office in London, or you can give us a call whenever you like.