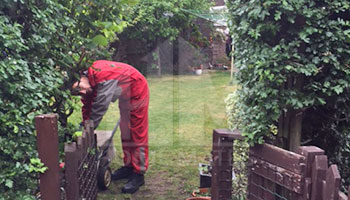 Cleaning your home from inside is both healthy and inviting, but a decent good-looking lawn outside your home can be an additional charm that can make your home look more welcoming to others. We are an elite gardening services provider in London. We are perfect partners in making your home look better. Whether it is the dusty backyard of your home, or a barren land, we can make it green. Our gardening services include basic services and much more like, disposing off junk or making a kitchen garden. You can call us now and leave all the arrangement to us.
Nick
has been working for our company for 3 years as a Professional Gardener. With 10 years experience in the field he managed to cover more than 3500 addresses.
Vesko
works for our company for 1 year already. As he is specialised in shaping the bushes, lawn mowing and grass cutting, he helps to numerous Customers to maintain their gardens on daily bases.
Gardening Services Enfield from HomeMates
When you have a garden you will need to keep it nice and this can cost a lot of time and for sure you will need some special skills.
In order to be sure that the garden is well kept you can hire professional gardening services. In Enfield, EN1, London our company offers gardening services for your home and commercial. We have a wide range of activities to keep everything well maintained and even more – our professional gardeners can give a new fresh look to your garden, to maintain the flowers, to prune the trees and to trim the grass. Call and book maintenance of your garden today!
If you have any enquiry or if you would like to get a quote, just give us a call on 020 3745 4377 or send us e-mail on info@homemates.co.uk!
Gardening Services Prices
We provide more services in Enfield
Searching for high quality lawn maintenance & gardening services to be obtained for a location within the London city? We are a well-known supplier of gardening services in London. If you have not yet chosen a London based gardening services company to serve you, then why don't you try our accomplished company to serve you? Our company is located in the central part of the London city, the Enfield, EN1 region and we cover every area of London to provide gardening services to the London citizens who request us to supply them different kind of gardening and lawn maintenance services within the UK capital region.
Professional Gardening Enfield, EN1
We are business owners and a few years back we realised that people don't want to spend their free time in their lawns or gardens, performing the exhaustive gardening chores. People would rather prefer to spend their weekends and holidays enjoying the beauty of their gardens if they have an alternative to get their lawns/gardens perfectly managed by local, professional gardeners. We have founded a gardening services company in the London city, to take care of all the gardening needs of London citizens – our gardening services company is perfectly situated inside the active Enfield, EN1 region of the London city.