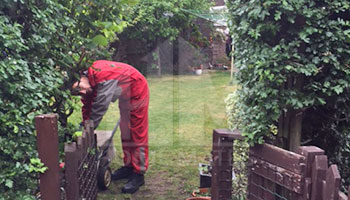 HomeMates provides various gardening services in Ealing, W5. Our gardeners can offer you lawn mowing, hedge trimming, tree pruning and other gardening services.
We are a leading company, located in Ealing, W5, well-known for our professionalism and responsiveness. Our top quality gardening services are not only efficient, they also are extremely affordable. In order to fit your budget, all our services are priced based upon your individual needs.
Nick
has been working for our company for 3 years as a Professional Gardener. With 10 years experience in the field he managed to cover more than 3500 addresses.
Vesko
works for our company for 1 year already. As he is specialised in shaping the bushes, lawn mowing and grass cutting, he helps to numerous Customers to maintain their gardens on daily bases.
Gardening Services Ealing from HomeMates
Our gardening company is giving its best in the following activities:
Lawn mowing
Tree pruning
Hedge trimming
Fertilizing
We work seven days a week, including on holidays, so call us anytime you need! If you need any assistance in order to maintain your beautiful garden, don't hesitate to call! We are always at your service!
If you have any enquiry or if you would like to get a quote, just give us a call on 020 3745 4377 or send us e-mail on info@homemates.co.uk!
Gardening Services Prices
Here is a list of all the services we provide in Ealing
Gardening services in Ealing, W5, London is what you need in order to have your garden looking the way you have always dreamed of. And also many other as well, that you might find interesting.
We are doing our best every day of the week, for your best convenience at reasonable prices and according your requests.
Professional Gardening in Ealing, W5
If you find it hard to cope with your busy life but you still want to have a lovely garden, our professional gardening services are exactly what you need. Transform your neglected outdoor space into peaceful garden area.
Everyone has a bit too romantic idea of the gardening – mowing the lawn early in the morning on a lazy Saturday, or pruning the trees or trimming the hedges in wonderful swirls.
In fact, everyone that tries this "home alone" finally realizes that the mowing is not that big deal when you are properly equipped and for sure when you have some experience or some idea how things should be done properly. If not it takes time and finally the results are unsatisfactory.
Now you have the chance to call us and we will perform some gardening services for you in Ealing, W5, London.