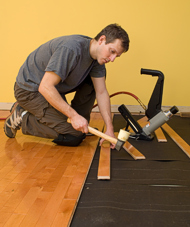 Floor fitting, which HomeMates provides, is the process of installing a parquet or laminate flooring. This includes:
Preparing the area for installation
Fitting of the base of the floor
Measuring the area
Choosing the amount of materials used in the process
Installing of the panels or coverings
You can get all the information you need by sending e-mail at info@homemates.co.uk or by giving us a call on 020 3745 4377.
Materials that can be used in the process of floor fitting are: vinyl, laminate, or parquet. Such floorings have become very popular in the past years for the fact that they are easy to install and they also look good combined with every type of interior. Fitting a floor requires maths skills in order to measure correctly the areas that have to be covered. The process of fitting is carried out as boards or panels of the chosen flooring type are laid in rows to cover the ground. They have to fit together and be installed plank by plank, as tongues and grooves have to match and fall into place. Fitting around pipes is taken into account and planks in such areas are cut accordingly.
Our company offers floor fitting services for domestic and commercial properties and guarantees to take care of the whole process and carry it out professionally. The work depends entirely on the area size and the type of flooring. We may also perform Floor repairs, Floor sanding and Floor installation if it is needed.
When it comes to residential floor fitting, the process includes:
Measuring of the area
Deciding on the amount of needed materials
Removing furniture from the area
Removing old panels or coverings
Installing/ gluing panels or coverings
Moving furniture back
Commercial floor fitting includes everything that is mentioned above, and also involves:
Measuring of larger areas
Working in a bigger team
Our floor fitting services will take care of the whole process of preparing and installing a laminate or parquet flooring.