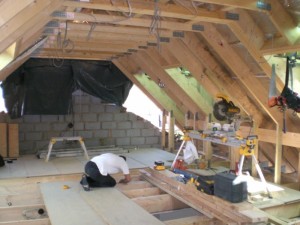 Professional loft conversion services in Harlesden, NW10 provided by HomeMates. Increase the living area of your house with our loft conversion service. Call now!
Given the limited space in most real estate properties and the desire of the owners to expand their houses, our agency decided to develop professional loft conversion services which would be available for all residents of Harlesden NW10, and which would have affordable price rates.
Nowadays, our company has a lot of clients which consider our loft conversion procedures the best. They provide an excellent solution to the problem with the limited space at home and also don't require a lot of finance. Our teams will handle the preparations, the planning and the performance of the procedure in your home, while you relax and wait for the final perfect results.
Contact HomeMates at 020 3745 4377 or at info@homemates.co.uk.
Building Services Prices
The prices can vary greatly depending on the size of the property and materials used. We strongly recommend to fill in the form or call us for a free quote.
Loft Conversion in Harlesden from HomeMates
Many residents have already believed in us and you can do it as well because we are an agency which:
Never lets its clients down, no matter what the circumstances are;
Provides all the instruments for the performance of the procedure;
Doesn't make compromises with the excellent quality of the professional services;
Always tries to make everything as easy as possible for the clients;
Has a great team of specialists who will handle every part of the loft conversion
Here is a list of all the services we provide in Harlesden
With our reliable loft conversion services, you will be able to make the changes in your home that you've always wanted. We don't expect you to spend a lot of money for a simple renovation like this. In fact, we will require from you to pay a smaller price than any of our other competitors. Our purpose as a professional company is to provide all people from Harlesden NW10 or another area with the professional services that they need.
Loft Conversion Services in Harlesden NW10
The loft conversion has been one of our most wanted services for the last several years and the reason for this is in the excellent results which it always provides. This is definitely the easiest way to expand and improve your real estate property without investing a lot of money or wasting a lot of your time. Our staff will take care of the planning and of the safe performance of the procedures which will make your home better.
All that we expect from you is to give us a ring in our company's office located in Harlesden NW10. After you do this, we will be able to begin organising the whole process and will probably start by visiting your real estate property and inspecting the loft which will be later converted into a nice room by us.