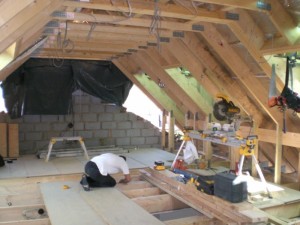 Professional loft conversion services in Clapham, SW4 provided by HomeMates. Increase the living area of your house with our loft conversion service. Call now!
If you want to receive professional assistance for the renovations of your additional space in Clapham, SW4 we are welcoming you in our respected and dedicated company that co operates with experienced and hard working staff. Converting your loft into a suitable place for living is not an easy task but within us you will forget about all the preoccupations around this process.
We will come supplied with all the necessary equipment of tools and machines and we will offer excellent availability that includes the weekends. We are glad to introduce your our modern and innovative designs for loft conversion, created by our team of specialists. Our primary aim is to ensure on-time and first class quality implementation of the loft conversion.
Contact HomeMates at 020 3745 4377 or at info@homemates.co.uk.
Building Services Prices
The prices can vary greatly depending on the size of the property and materials used. We strongly recommend to fill in the form or call us for a free quote.
Loft Conversion in Clapham from HomeMates
We assure you that our loft conversion is professional and that we work in a careful manner and due to the requirements of our customers.
In our loft conversion, provided in Clapham, SW4 we now include:
Offering of suitable designs
Planning and organization of the working process
Using of modern and reliable equipment
Dedicated and experienced team of cleaners
Very affordable prices and exceptional offers
Easy booking
Excellent working schedules
Here is a list of all the services we provide in Clapham
We are expecting you from Monday to Sunday and we are prepared to discuss with you the details of the loft conversion. Our employees are capable of organizing every aspect of the loft conversion, including valuable advice for the design of the space. Depending on the size of the room we can offer you excellent options that will make the space cosy and inviting. As far as the equipment is concerned, you can be sure that we have chosen reliable and modern tools and machines. Trust our respected company – we guarantee the best final results for loft conversion in Clapham.
Loft Conversion Services in Clapham, SW4
Instead of taking up with all the procedures and decorations on your own, you had better contact our friendly and comprehensive staff. We will be happy to collaborate with you and to create your loft conversion at a time that will be convenient for you. Our company provides reasonable and fixed prices for the procedures included in the loft conversion. Take a look at our exceptional offers and book our outstanding loft conversion right now. If you prefer, you can use our customer support centres for receiving any additional information. Choose the best option for your additional rooms – we are here to assist you with valuable advice 7 days per week.