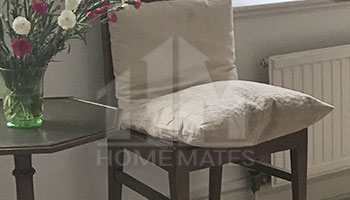 If you have lost control over your home and it has become a mess, but you don't have enough time to clean everything, do not worry, this is an easy task for us. Our company could offer you professional home cleaning service at the most affordable prices in all London regions, including Golders Green, NW11. Our team of professional cleaning experts could deal with all types of dirt. Save your time for things you would enjoy more, leave cleaning to us. We are available whenever you need us, including weekends and public holidays. We can offer you regular and one off cleaning, it all depends on your preferences.
Nedka
is in her early 50's and she is one of our finest cleaners. The saying 'Age ain't nothing but a number' defines her.
Daisy
is challenging herself in order to become an expert. She is practicing her skills on daily bases and do not accept anything but sparkling home.
Galina
is one of our brightest cleaners. Fond of household pets and children. Galina works quickly and up to a high standard.
Yulia
is a brilliant cleaner, who works quickly and catches on to each and every one of our customers' needs.
Home Cleaning in Golders Green from HomeMates
We have always been telling our customers that we work with the best house cleaners. Actually, this is true because we managed to gather the most experienced cleaners in the area of Golders Green, NW11, London and teamed them up together. Our company is the best in the business and we have proven our skills so many times! If you want to make the best for your house, then call us and book our services – we will make everything shine and spark and we will not miss a single detail – all you have to do is to get the phone and call us.
E-mail us at info@homemates.co.uk or call us on 020 3745 4377 and our customer care team will gladly explain you even the smallest details about our cleaning services.
Domestic Cleaners in Golders Green
If you are feeling shortage of time and you need to make the best out of the house-cleaning situation, then we might have the right answer. If you happen to live in Golders Green, NW11, London then all you need is just one phone call away. We work with professional house cleaners who have successfully passed our training schedules and who have always been trying to achieve the best out of any situation. Just get the phone and make that phone call that will make your house a better place. Our prices are really moderate, so you don't have to save a whole month to afford our cleanings.
HomeMates Cleaners Golders Green, NW11
Finding dependable and reputable house cleaners in London may be a challenge but we are here to offer you the best service in the city, including the area of Golders Green, NW11. Our team is fully trained and quite experienced in the field, having worked in this business for many years now. We also work with a group of really enthusiastic and motivated cleaners who stop at nothing until they reach perfection every time. No matter how big or messy your home is, we are prepared to handle it in the best professional way and quickly return its lost glow and cleanliness.